YEM marketplace is deployed in Italy and soon in Spain
YEM is aimed at companies and consultants that aim to save time and money in the management of energy contracts without ever saving on quality. From 2021, YEM will develop its activity at the speed of 5 other European countries a year.
3 steps to get the best deals

Create a personalized Request for Offer
Create your YEM account. Enter the company's energy needs and preferences. Access our strategic advice and create a custom Request for Offer in just a few clicks.

Put suppliers in competition
With YEM you have the possibility to send your Request for Offer to suppliers via our platform or to download and send it directly to suppliers.

Receive the ranking of the best offers
YEM classifies suppliers for you. Choose the offer that best suits the company's energy needs and finalize the contract directly with the chosen supplier.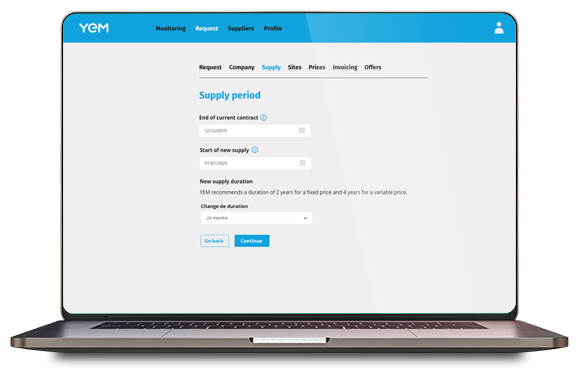 Try out our marketplace, ask for a free demo!
Enter your email, we will get back to you as soon as possible and will make a personalized online appointment to discover our marketplace.
Simplicity
Create a Request for Offer and send it to multiple suppliers is time-consuming and expensive. With YEM, answer a few simple questions: we turn your answers into a customized Request for Offer. You only need one click to send it to multiple quality suppliers.
Autonomy
Wether you are an energy manager, a consultant, or a buyer who occasionnaly deals with energy contract, YEM solutions save your time, and reduce both risks and costs. You are the one to take the decisions with our support.
Security
For YEM, confidentiality and security are priorities. You've got control on wich suppliers you send your Requests for Offer to. An asymmetric encryption system protects your offers.
Advice and expertise
In order to provide you with valuable information, YEM treats all energy suppliers equally and relies on a network of engineers, traders and analysts specialised in the energy sector. Our goal is to transfer this expertise to you.